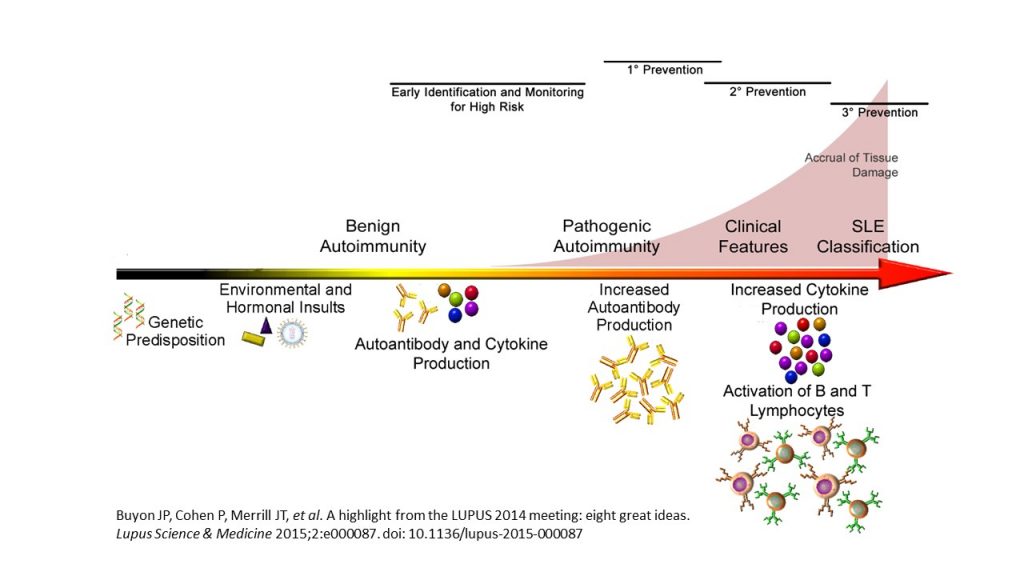 Lupus and other systemic autoimmune diseases often begin with an asymptomatic period marked by autoantibody accumulation and escalating immune dysregulation. To understand this preclinical period of autoimmunity and enable lupus prevention studies, we assess changes in autoantibodies, soluble mediators, and immune cell populations as individuals transition to SLE, as well as protective features in those who remain stable.
To identify the genes, transcription factor networks, and immune pathways that affect immune cell activation and progression to autoimmune disease, we use multi-dimensional and high-throughput analyses to examine epigenetic and transcriptional activity of individual immune cell subsets. Cellular function is assessed in unstimulated cells and in cells exposed to cell-specific stimuli.
To enable the prediction of future lupus onset in various at-risk populations, we incorporate our high-dimensional data in statistical modeling approaches to identify sets of markers that distinguish future SLE patients from controls who remain unaffected.
These studies leverage unique cohorts and longitudinal collections that span the preclinical period. Our cohort of ANA+ healthy individuals provides information about immune pathways that may permit autoantibody production while preventing clinical disease. We are able to delineate the progression of immune dysfunction that leads to lupus in a collection of serial samples with timepoints before and after lupus classification, and in a large collection of relatives of lupus patients at various stages of disease, including individuals with samples available both before and after reaching lupus classification. Finally, cohorts of patients with incomplete lupus erythematosus and undifferentiated connective tissue disease allow us to dissect the features that distinguish classified SLE from these more limited clinical syndromes.
Browse other areas:
Mechanisms of Disease Flare
Deciphering Molecular Heterogeneity
Improving Health Equity
Human Immunity to Infection and Vaccines